PP call on Government to halt privatisation of AENA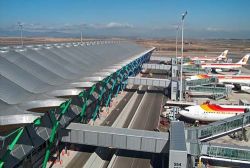 The Partido Popular spokesman in Congress, Soraya Sáenz de Santamaría, has asked the PSOE government to stop proceedings to privatise their stake in the Spanish Airports Authority - AENA - ahead on the general elections on November 20th.
She also called into question the way in which Jose Blanco, the Minister for Infrastructure, has handled the privatisation process up to this point.
The privatization of the government's 49%% stake in AENA also includes the privatization of Madrid-Barajas and Barcelona-El Prat airports, as well as the privatization of a number of the country's airport control towers. Just last week FerroNats - a joint venture between Spain's Ferrovial and the UK's NATS - were awarded to control the airspace at 13 Spanish airports.
According to the scheduled process the deadline for bids to be submitted to operate the airports are to be received by October 31st. Favourable bids will then be shortlisted in November, with the successful bidder being announced in spring 2012.
The value of Madrid-Barajas bid has been set at 3.7 Billion euros and Barcelona-El Prat, at 1.6 Billion euros, of which 20% of revenues will be paid to AENA as part of the arrangement.