Murcia Green Party Criticise Corvera Airport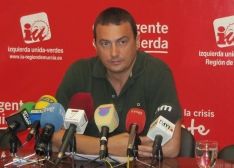 Josť Antonio Pujante, the Spokesman and candidate for Murcia's IU Green party, spoke in the regional parliament against Corvera International Airport, and what he calls "unnecessary infrastructure."
He called upon the public not to be swayed by the promise of increased levels of tourism to boost the local economy, especially when "We already have an airport at San Javier and the other, although a little further, at El Altet".
He also emphasized the poor public image of Murcia shown to tourists when they do visit, when there is so much pollution in the regions rivers and streams which, he said, "is really ugly."
Pujante went on to say how, according to his research, the Region of Murcia is ranked 14 of the 17 Spanish regions in terms of competeiveness.
Nobody in the house opposed the spokesman.