Helitt Airlines to launch Granada - Madrid route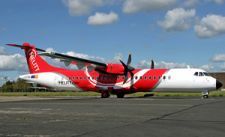 Andalusia's Helitt airlines has opened an office at Granada-Jaén airport, and has asked the Spanish Airports and Air Navigation (AENA) permission to operate the Granada-Madrid route.The President of the airline, Abel Pizarro, has underlined that the airline has the necessary requirements to carry out its plan to connect the province with the capital and preparations for the route can begin as soon as AENA respond to his request, said Pizarro.
He went on the say how Madrid would be the first route opened from the airport and that ticket sales could be made available through their own website, travel agents, call centre, mobile and by calling into their offices in person.
Pizarro also insisted that, although rates may vary a competitive final and transparent ticket price would always be quoted.
The office at the airport will initially offer 12 positions, but will aspire to increase to 150 candidates by the spring of 2012.
Helitt Airlines launched last year, introducing it's own planes with routes to and from Melilla in a bid to break into the Monopoly surrounding at the airport there.
President of the Association of Travel Agencies of Melilla, Ildefonso Menendez Sáez, welcomed the arrival of the new airline as being "good for Melilla", as the cost of travel between the enclave and the mainland has long been and issue for many travellers.