El Hierro activity may be about to enter 2nd of 4 phases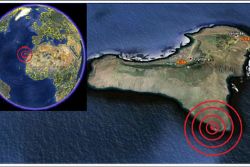 Scientists at the National Geographic Institute (IGN) and the Centro Superior de Investigaciones Científicas (CSIC), announced yesterday evening that the eruptions on El Hierro is a 'surtseyana' event, consisting of four phases. However, the completion of each phase depend on the amount of magma expelled by the volcano.
The CSIC cordinator confirmed that the effects of the first phase were seen on Saturday, with the production of lava bubbles that carry gases to the surface. Stage 2 will consist of columns of white-coloured steam being produced, with, according to Ortiz, with the third stage seeing the production of black, sooty explosions. The final stage will see magma and lava emerge.
Scientists also confirmed that the diameter of the mouth of the volcano is around 1mt in diameter and has caused a strain about 5cm.
It is yet to be confirmed if the eruption has moved into it's second stage.
Further images of the Island and the stains resulting from the two underwater eruptions were taken by the NASA satellite, Aqua, and showed how the stain had grown in size considerablly over the last few days.
The Regional government of the Canary Islands increased the state of emergency to red light : Level 1, in which, on top of the mandatory evacuations for the village of La Restinga, have seen the emergenct services mobilzed.
This morning the Director General of Security and Emergency, Juan Manuel Santana, announced that will be another meeting of PEVOLCA, which will be attended by President of the Government, Paulino Rivero, and the director and chief Plan of Economy, Finance and Security, Javier Ortiz, which will take place at 13:00 pm in El Pinar.
Read further news stories about the El Hierro Volcano by clicking the link HERE .