Two Earthquakes Hit Almeria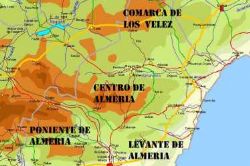 There have been reports of two earthquakes occuring this morning around the towns of Cuevas del Almanzora and Zurgena in the Province of Almeria.
The Cuevas del Almanzora quake struck at around 1.45 on Tuesday morning, at a depth of 11km and measuring a magnitude of 3.7 and the Richter scale, with the quake at Zurgena, less than 20km away, was measured minutes later at a depth of 10km and a magnitude of 3.8.
Whilst there were no reports of any injuries, or damage to properties, a number of calls were made to the emergency services by worried residents.
The south-east of Spain is no stranger to earthquake activity. Barely 6 months ago the town of Lorca in Murcia, less than 50km to the North of Zurgena, was devastated by 2 earthquakes that destroyed many buildings and took nine lives. However, the two Lorca quakes were measured at 4.5 and 5.3, but at a much shallower depth of just 1km.
Other minor tremors and shocks have also been felt in the area for the past few months.