San Javier - Corvera handover procedure underway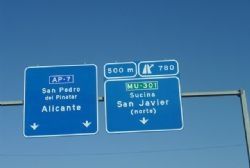 The Ministries of Development and Infrastructure, together with the Region of Murcia, AENA and the operators of Corvera airport, Aeromur, are working on a procedure to transfer operations from Murcia's San Javier airport to the new airport at Corvera.
The Regional Minister of Public Works, Antonio Sevilla, will be instrumental in collating data for the report, which is expected to be presented in a few weeks time.
It is expected that the work needed to start preparations for practice flights at Corvera will be complete before the end of the year, with a number of flights to commence later spring, and for the airport to be fully operational by late summer.
AENA and Aeromur now have to agree on the transfer of personnel from San Javier to Corvera, and the terms of payment of compensation to AENA.
Whilst AENA and Aeromur agree on the transfer of the 84 workers directly employed at San Javier, no resolution has yet been found regarding the future of the 300 "Indirect" workers who rely on san Javier for their income.