322 Plots required to extend Alvedro airport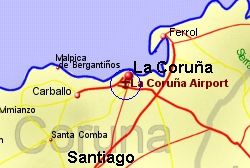 Yesterday AENA has said on Monday that the proposed extension of Alvedro airport, La Coruña, has observed the official deadlines and procedures as detailed in expropriation regulations act.
The Minister of Public Works, José Blanco, issued a statement confirming that 322 plots in the town of Culleredo would be acquired as "land for the expansion of the airport runway La Coruña ".
Since November 26th, 2010 the Council of Ministers approved the "urgent occupation" of the required plots in order that the airfield could be extended. Since then TINSA, the real estate valuation agency, has begun the valuation process of all properties which the proposed project affects.
One of the plots, owned by Grafoplas del Noroeste, has a plot size of 5287 sq mts and a warehouse of 4341 sq mts, where it manufactures plastic and paper products and employs some 164 workers.
Grafoplas reached an agreement for compensation of the plot for 4.7986 million euros, in accordance with the valuation as provided by TINSA, to include "all compensable concepts" such as land, buildings, machinery and transportation, among other things.
The compensation payments have been split into two installments, with 40% being made on May 31, 2011 and the remaining 60% on 23 September. As such, AENA are now the legal owners of this property.
The extension of the new terminal building at the airport will allow the processing of up to 1.9 Million passengers and is estimated to cover 14'000 sq mts and is expected to be completed within 12 months.