Ryanair `Will not return to Reus as base of operations´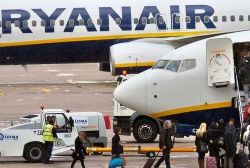 The Director of Communications for Ryanair in Europe has confirmed that the airline has no plans to reopen its operational base at Reus when the summer schedules are announced early next year.
Daniel de Carvalho put this down to the Tarragona´s failure to promote the airport and tourism on the Costa Dorada, but maintained that the airport can be a success if it receives the correct promotion.
By not using Reus as a base of operations, Ryanair has reduced flights to the airport to just one-fifth of it´s previous capacity, down from 30 to just 6 routes being offered from March : Bristol, Dublin, East Midlands, Frankfurt, Glasgow and Manchester.
He went on to deny that the reduction of routes at Reus had anything to do with the increase of roues at Barcelona-El Prat, as the airport attracts mainly Business and City break passengers, whilst Girona and Reus have a family tourism based demographic.
The airline received a subsidy of 3.5 million per year in exchange for maintaining an agreed number of flights to the airport.
AENA and the Regional Government of Catalonia are currently in negotiations with 13 different airlines to provide new routes to Reus airport, with a focus on Russian and Scandanavian markets.