Passenger numbers at Jerez airport remain static 2010 on 2011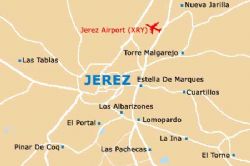 Passenger numbers at Jerez airport fell during October, in line with expectations following the departure of a number of airlines for the winter schedules. Passenger numbers were down some 1.3% compared to the same month last year, down to 99,618 people, according to statistics from Spanish Airports and Air Navigation (AENA).
Statistics recorded from January onwards note that Jerez airport remains with almost the same figures from 2010 despite the effect that the economic crisis is having on the airline industry. The data released by AENA yesterday show how in the first 10 months of 2011, the airport served a total of 938,791 persons, representing a decrease of 0.2% on the same period.
The total number of flights stood at 36,067 - an increase of 23%, however this increase in traffic also includes training flights made by the nearby school for pilots of the European School of Flight Training (FTE).
For the winter period the airport maintains routes to Palma de Mallorca (Air Berlin), Madrid (Iberia) and Barcelona (Ryanair), with new routes to Poland (TUIfly) and Cologne-Bonn (Germanwings) being added for the summer period.