19 of 20 worst European delays are from Spanish airports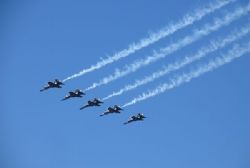 A report on the state of of airports and the airline industry has been critical of Spain.
The report by Eurocontrol, the agency who controls European airspace, has warned that Spain does not exceed limits that delay the operation of flights, and that current proposals in which any potential delays can be recognised and limited are `not very ambitious´, and that `procedures imposed [by the previous administration] mean that the situation is unlikely to change until at least 2014.
The report continues, detailing how 19 of the 20 worst European routes for delays have either a Spanish departure or destination airport. El Mundo quoted Tenerife South and Las Palmas as being the worst offenders for delays to departure times.
Whilst Spain is responsible for controlling 10.5% of all aircraft traffic in Europe, it is accountable for 15.5% of all delays.
AENA have but the delays down to internal restructuring, the outsourcing of control towers and privatisation moves. The agency has also implemented a move to reduce the required distance between planes taking off and landing at Spanish airports, which they predict will result in the reduction of average delays by 8 minutes in 2012 and 5 minutes by 2014.