AENA defend their position with El Altet air bridges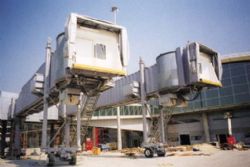 AENA have defended their position of enforcing the mandatory useage of airbridges at the majority of their boarding gates at El Altet airport in Alicante. A spokesman for the company confirmed that useage was necessary to ensure public safety.
Earlier this week Ryanair formally announced that as a result of this measure, they would be cutting their operation at the airport by more than 50% for the summer months, and transfering 4 of the aircraft based at El Altet to their new bse of operations at Palma de Mallorca.
AENA reminded the airline that their offer of being able to embark 50% of their Winter flights by foot, and reminded Ryanair that 60% of their flights boarded this way in November of 2010. During the busier Summer months a reduced number of gates would be able to accomodate the airline's request.
However, the Commercial Court in nearby Elche is scheduled to hear Ryanair's appeal againt the decision in February of next year. If the appeal is upheld, or if AENA withdraw their ruling, the airline has promised to reverse their decision and will restore operations at the airport to the previous levels.
Ryanair will cancel a total of 18 Spanish routes from summer 2012 including flights to include Madrid, Zaragoza, Palma, Seville and London Gatwick.