Iberia pilots strike continues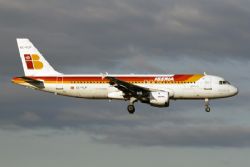 Today's strike by Iberia pilots - the 7th day of action since the dispute started in December of last year - has resulted in the cancellation of 94 flights today.
The SEPLA union members are protesting against the launch of the airline's new Iberia Express carrier, created to comepte against other low cost airlines on their short and medium haul routes, which they are concerned will result in the loss of jobs at the airline. The CCOO and UGT unions representing ground and cabin crew found agreement with the carrier last week and as such haved decided not to join the pilots in their action, however a number of smaller unions have still to make any decision on the matter.
Including today's action, the airline will have cancelled 289 flights and caused disruption to an estimated 55'000 passengers this last week alone.
The pilots have also called strike action for the 13th, 17th, 20th and 24th of February.