Ryanair's Michael O'Leary given police escort from Bilbao airport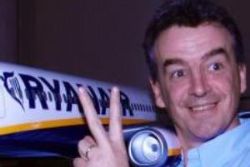 Michael O'Leary, the Chairman of Ryanair, had to be protected by police on his departure from Bilbao airport to Madrid-Barajas after being abused by former employees of the collapsed Spaniar airline.
Around 30 former employees from the Catalan-based airline Spanair attempted to disrupt a press conference at the airport yesterday when O'Leary was announcing the establishment of new routes to and from Barcelona's El Prat airport.
The new routes were established, taking advantage of the void that was left behind following the collapse of Spanair, which was based at El Prat.
Ryanair last week angered former Spanair employees after offering them conditions of work which were called "miserable".
Angers flared when O'Leary left the meeting and flashed a V for victory sign to waiting reporters, which protesting Spaniar workers judged to be a lack of respect in his taking advantage and claiming a victory in the face of those who had lost their livelihoods.