Two Spanish airports in EU top ten decreasing traffic list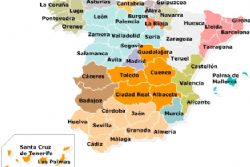 Recently released statistics have revealled how Spanish airports feature twice in the list of top ten worst performing European airports.
The study surveyed more than 300 airports including those in Morroco who, whilst obviously not being an EU member state, has an 'open skies agreement' with the UK.
All airports which currently handle in excess of 100'000 passenger per year were analysed, and their 2011 performance was compared to the previous year (January - November).
The Catalan airport saw a decrease of 38.2% following a significant reduction in flights by Ryanair last yer, however, this is expected to bounce back in 2012 with many Ryanair flights being returned to Girona.
Pamaplona airport saw a decrease of 18.2%
No Spanish airport appeared in the top ten of European airports with the most growth, which was largely occuppied by Eastern European destinations currently favoured by a number of low-cost carries such as Ryanair.
As a whole passenger numbers for all spanish airports in the AENA network grew by 6% in 2011 compared to 2010.