Murcia President 'forsees no problems' with Corvera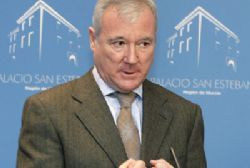 President of Murcia, Ramon Luis Valcarcel, has confirmed how Corvera International airport is "heading in right the right direction", that he does not foresee any problems following his meetings held with the Ministries of Development and Defence.
"The two ministers have confirmed that they have already instructed their departments to get to reclassify the air corridor. They will meet with AENA management and with the General Air Academy at San Javier Airport, and the Aeromur dealership at Corvera. This is most important now and I hope that is resolved within weeks."
President Valcarcel spoke with the Minister of Defence, Peter MorenÚs, last weekend during the PP Congress in Seville, and with the Minister of Defence, Ana Pastor, a few days earlier on her trip to the region.
On being asked about the issue of compensation payable to AENA for their recent expenditure on improving the infrastructure at San Javier airport, which will become a Military training academy, Valcarcel stated that this was a matter for the two Ministries to decide.