Fabra fails to appear in defence of Castellon airport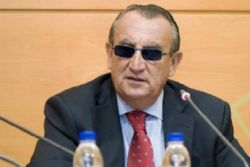 The PP yesterday declined to present Carlos Fabra, President of Aerocas (the developer of Castellon airport) to the regional parliament to defend recent criticism of the project.
The Compromís; Esquerra Unida; PSPV-PSOE and IPF opposition parties called for Fabra - himself the former President of the Province of Castellon - long opposed the project, which has cost the region an investment of around 200 Million Euros to date.
Josep Maria Pañella, the Compromís deputy, referred to Fabra's non-appearance "indefensible" and the PP's management of the project a "nonsense".
Pañella continued that the regional Minister for Tourism, Lola Johnson, who supported Fabra as the continued head of Aerocas, also be called to Parliament to justify their actions.
EUPV deputy Marina Albiol, demanded to know why a feasibility study was not carried out, whilst the deputy for the PSPV, Maria Jose Salvador, called for Fabra to resign given his non-appearance.
Further news articles about Castellon Airport can read by clicking HERE.