Minister for Justice to reform abortion law, penal code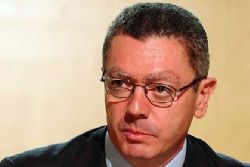 Spain's Minister for Justice, Alberto Ruiz-Gallardon, announced yesterday that a number of reforms will be introduced by the Autumn, notably changes to the penal code and the current abortion laws, introduced in 2010 by the PSOE.
The Minister was speaking infront of the Senate and only gave the briefest of explanations as to what form the proposed reforms may take. It is thought that the abortion law will be modified to ensure that parental consent is mandatory for those under the age of 18, and that changes to the penal code will revise mandatory prison terms, the definition of underage criminality and parole eligibility.
The Minister hopes to introduce the modification proposals to a number of advisory bodies before the beginning of summer before processing a bill and referring it to Parliament.
Gallardon has previously spoke of other refoms to the judicial system, such as moving a number of 'lesser' legal formalities like divorces and marriages away from the courts and to notaries as a means of allowing the courts to focus on more pressing legal cases.