Politician criticises Paramount, Corvera and Gay tourism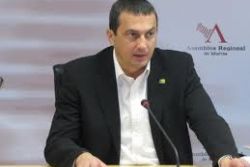 The regional spokesman for the IU-Verdes in Murcia, Jose Antonio Pujante, has criticised the latest campaign of the the Ministry for Tourism of promoting "Gay Tourism" in the region. The Green party politician went on to say how this showed the desperation of the tourist board, and lamented the fact that tourism grew so little in 2011, despite Murcia's unique location.
Pujante pointed out that the regions of Andalucia or Aragon had not resorted to such desperate measures to promote tourism.
Far from being a homophobic reaction, he told Europa Press in an interview, that as Homosexuals and Hetrosexuals were part of the same community, it was pointless to market to them as a seperate group.
With regards to the region's airports, Pujante criticised the waste of public money in developing the facilty at San Javier airport so recently, when plans were already at an advanced stage for it's closure. He also referred to the 200 Million Euros that the region had invested in the new airport at Corvera as "a risk", pointing out that similar projects at Castellon and Ciudad Real had been unsuccessful.
He also spoke of the recent expansion of nearby Alicante's El Altet airport as being a threat as a direct competitor of Corvera.
On being asked about his opinions on the Paramount Pictures theme park projects at Alhama de Murcia, he reminded that 'nothing had yet happened' at the park, and held up the Warner Bros park in Madrid, and Terra Mitica park in Benidorm of similar unsssuccesul projects.
He also reminded that the Arab investors that the promotors of the park had promised, were still not forthcoming and neither had the first stone being laid.
He referred to the project as being "just a name" and that to date it had been "a Pantomime"