Saloufest divides local opinion once again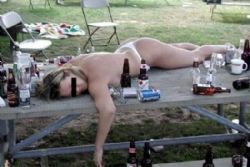 Ever since the birth of "Saloufest" in 2002, as many as 8'000 party-loving students from the UK have decended upon the sleepy Catalan seaside town to celebrate their Easter Holidays.
And every year is the same....
The 2 week long non-stop party brings with it countless arrests for intoxication and violence, and cost the town thousands in damages, repairs and in providing medical attention and policing to keep the crowds in order.
Saloufest is billed as a 'Sporting Trip' with a number of University Sports teams attending the area to play in a number of so-called tournaments, however tour operators make no secret of the fact that the partying is the real attraction.
As far as the locals are concerned, opinion is split into two distinct and opposite camps :
For one, there are those who are concerned that the cost and damage to the town - not least it's reputation - are too much to bear and that they should not be forced to pay to host such an event from the coffers of the Town Hall.
However, the alternative view by many - especially business owners - is that the event brings 100% capacity to the town for a solid 2 week period before the season begins. Many Bar owners note that takings during Saloufest are higher than the whole of August, which is usually popular with families who would traditionally spend less than partying students.
Although Saloufest might not be the kind of event or attraction that the Town hoped it would be host to, residents should be reminded that there are countless resorts up and down the Spanish Costas that would jump at the opportunity of increasing revenues and providing much needed employment for the locals.
This year Saloufest runs from 31st March and 15th April.