Spain healthcare reforms - Minister proposes the rich pay more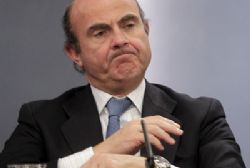 Spain's Minister for the Economy has told a Cadena Sur radio presenter of the need for further reaching measures in the Health and Education sectors.
In the interview Luis de Guindos said the government plans to impose further taxes on those on high incomes to pay for the country's healthcare requirements, saying "We must open the debate of whether we should provide all health services free of charge to a man who earns €100,000".
The Minister justified this measure by the structural deficit of the system: " We have accumulated debts of more than €15,000 million in the regions and are finding that health care providers will no longer serve them."
De Guindos also explained that the regions should rationalize expenditure and eliminate "all that is unnecessary and inefficient.... We are risking the future of the quality of the system".
He emphasized the Government's commitment in "maintaining quality and prioritizing basic services", and that the responsibility of the Healthcare services will continue to be controlled by the regions.