Corvera airport to commence flights in October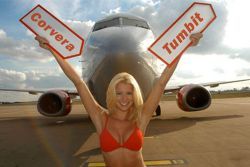 The regional government and the Ministry of Development have agreed a date when operations can commence at Corvera International airport, with President Ramon Luis Valcarcel stating that negotiations will be completed by October, which will allow the transfer of operations from San Javier to Corvera.
The news came following a meeting between Valcárcel and the Minister of Public Works, Antonio Sevilla, along with the President of AENA, Jose Manuel Vargas, acin Madrid last week.
It is only three weeks ago that Valcarcel announced that Corvera airport would not be operational for the summer, and since that time there has been much specualtion surrounding the problems that have caused such a delay aswell as the actual date of opening. A number of ailines have also extended their schedules at San Javier airport to cover both the summer and Winter periods in light of a lack of information on the subject.
At last week's meeting both parties reviewed the many procedures, certificates and approvals that must be authorized by the Civil Aviation authorities, together with the technical considerations at the facility being approved by the Spanish Agency for Aviation Safety Agency (EASA). In addition to this, AENA must still re-classify the strip of airspace surrounding San Javier airport, currently controlled by the Military, to allow a safe distance of take off and landing for planes using Corvera airport.
Initial test flights have been scheduled for next month to ensure that the facility meets the many different requirements of the various authorities.
The CEO of Air Berlin for Spain and Portugal, commented on the news by saying how his airline is considering canceling some of the routes to El Altet due to the decrease in traffic brought about by AENA's recent increase in aiport fees. One of Aeromur's primary targets for Corvera airport is to be more competetive than the AENA network of publically owned airports.