Study shows just 10 Spanish Airports profitable in 2011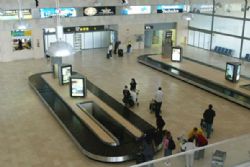 An independant report has revealled how just a quarter of airports returned an operating profit between 2009 to 2011.
The study by Siscognes & Strategy found that just 10 of the 49 AENA operated airports in Spain managed to keep out of the red, with the group as a whole returning a losses of €220 million.
During 2011 the 39 airports airports doubling their losses to reach €349.1 million, whilst the 10 proftable airports were able to return €128.7 million between them.
However, there was an improvement in operating profit per passenger, which rose from €11.40 in 2009 to €11.49 euros in 2011, although passenger revenues improved significantly rising from €9.91 euros three years ago to €11.90 euros last year.
The report also highlighted the average investment for each passenger by the regions. In La Rioja this investment represented €1'731 per passenger, whilst in the Balearics it was just €30 per passenger.
However, the study concluded that having more passengers does not necessarily mean better results, noting that the regions with a high percentage of tourist arrivals, but fewer overall passengers, often operate more efficiently than the others.