Spain to introduce variable road speed limits later this year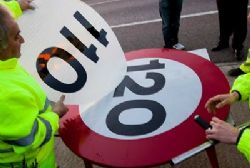 Jorge Fernández Díaz, the Minister for the Interior, has announced plans to introduce variable speed limits on all motorways and dual-carriageways in Spain.
This will allow the autorities to change the maximum speed limit in accordance with adverse weather and traffic conditions.
The Minister confirmed that the changes will be introduced later this year, with the government also considering reducing the speed limit on B roads from 100 km/h to 90 Km/h in a bid to reduce the number of accidents on Spanish roads.
The Central Government is also considering reducing the 130 Km/h speed limit on the country's motorways to bring them in line with other countries in the EU.