Whilst it is not strictly necessary to exchange your UK Licence for a Spanish one, you may find it more convenient to do so ...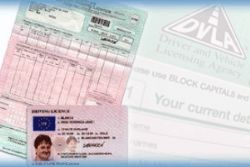 British and other EU Citizens
Any UK driving licences that were issued prior to 1990 are invalid unless they are accompanied by an official translation into Spanish - Any infringement of this law could result in a very heavy fine being awarded, and the inconvenience of having to sort this out with the Guardia Civil and / or the DGT.
The minimum age that you are able to hold a driving licence in spain is 18 years old, so any 17 year old holding a UK licence will be unable to drive.
Spanish driving laws and regulations previously stated that licence holders were entitled to legally drive on a valid UK, or other EU licence, for a period of no more than six months - after which time they were then required to either :
Leave Spain
Not drive any road vehicle during their stay in spain
Apply for their UK or other EU driving licence to be approved and stamped
Apply for a Spanish driving licence
Up until recently it was "recommended" for holders of an EU driving licence to obtain a Spanish driving licence after being resident in Spain for 6 months, however the DGT are now advising that such licences lose their validity altogether once this term has expired.
The British Consulate also suggests that it is advisable to exchange UK licences for Spanish ones, which are also valid for visits to the UK. In the UK the DVLA will not put a foreign address on a replacement licence, nor will they send one out of the country. Therefore, if a British licence is only registered with Spanish authorities and is lost or stolen, a replacement cannot be obtained from the UK, and Spanish authorities will not be able to replace one they did not issue.
Licence Validity & Renewals
Those wishing to renew driving licence categories BTP, C1, C1 + E, C, C + E, D1, D1 + E, D and D + E must do so every 5 years up to the age of 65, every 3 years beyond that age.
All other categories of licence have a validity of 10 years up to the age of 65, renewable every 5 years beyond that date.
To renew a licence in Spain the applicant needs a medical certificate issued by an officially recognised centre.
To apply for your driving licence to be replaced by a Spanish one
Go to your local provincial traffic headquarters (often based within the police station ) and ask to change your British driving licence for a Spanish one. They will inform you that you must undergo a medical examination (as do Spanish nationals) and give you details of how to proceed...
Take with you:
Your valid UK or EU driving licence
Your NIE certificate
Your Residencia paperwork
A photocopy of both sides of the driving licence id photograph card
Your passport and one photocopy
Two passport photographs

This process may vary slightly from town to town , but the above documents should cover all variations. When you have all of these documents the proceedure is usually very quick and simple.

Your new spanish licence is also valid for driving during visits to the UK.

To apply for your british driving licence to be stamped and registered

Make it clear that you want your licence stamped, not replaced and proceed as above.

Please Note:

The practice of registering a british driving licence (photo type) can now only be carried out at main provincial police/highway authority offices, e.g., Alicante, Barcelona, Madrid, Valencia etc...