Unexplained "Procedural" behaviour on Ryanair flight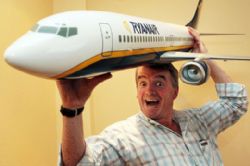 A Ryanair flight from Alicante, Spain bound for the UK caused alarm and stirred fear amongst it's passengers following an unusual and unexplained procedure by its cabin crew.
Ryanair flight FR8297 on 9th August 2012 heading to Bristol in the South West of the UK was boarded by passengers without incident after passing security control.
However, after finding their seats and becoming comfortable, passengers onboard were then subjected to a prolonged and nail biting situation which was only explained as "procedural" by flight crew.
Crew members opened storage bins and began pulling each suitcase out one by one and shouting "Who's case is this". Once a row of passengers were identified with their luggage they were frog marched from their seats at which point the crew checked under the seat they were sat in, the seat in front, dropped down each of the tray tables then removed the seat cushions to check underneath.
"They're looking for something" said one passenger whilst others began to stir with fear as it became obvious something was not right. When the crew were quizzed over what was going on, their only response was "Procedural" which became more and more frustrating for passengers simply seeking reassurance everything was ok and there was nothing to fear.
One passenger commented "Thats no procedure i've ever heard of or seen before!" whilst several others remarked "This isn't very reassuring!"
A member of the flight crew even stormed through the cabin muttering under her breath "F##KING PASSENGERS!" during the "procedure".
The unexplained procedure comes in the wake of 3 emergency landings by the Irish airline in which may-day calls were made by the pilots because of a serious lack of fuel onboard after the flights were diverted from a scheduled landing at Madrid to Valencia.
Tumbit attempted to contact Ryanair for a comment, however the airline did not respond.
We would like to invite passengers on this, or any other flight to contact us about their experiences with Ryanair.