Benidorm writer announces 6th series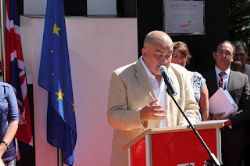 Earlier today the Ayuntamiento of Benidorm held an offical ceremony to honor Derren Litten, writer of the hit TV series for his contribution to Tourism in the Town.
The Mayor, Agustin Navarro, unveiled a commemorative plaque (worded in both English and Spanish) between Morgan's Tavern and the Sol Pelicanos Hotel at 12.00 o'clock today in front of a crowd of well wishers. Cast members and dignitaries from the British Embassy in Alicante were also invited to attend the event.
It was here that Derren Litten awarded the Mayor with a box set of the entrie Benidorm series and announced that a sixth series had been commissioned, with filming due to commence in March 2013.
The mayor also expressed his gratitude to all of the British people who choose Benidorm as their holiday destination and hoped that they will continue to do so.
Thanks to Irena from Benidormallyearround .