Spain Seeks Security Council Seat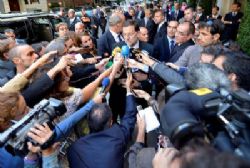 Spanish PM Mariano Rajoy arrived in New York yesterday for the 67th General Assembly of the United Nations and will use the opportunity to gain one of two vacant seats in the UN Security Council.
Mariano Rajoy will address the assembly at the request of UN Secretary General Ban ki-Moon to defend the "Alliance of Civilizations".
Due to meet representatives from more than 200 other countries at a special reception hosted by US President, Barak Obama, the Spanish PM hopes to use the opportunity to canvass support for their elevation to the Security Council.
In addition, Rajoy intends to promote the Spanish brand and gain international investment whilst at the same time increase Spain's role on the international stage.
The two seats up for grabs are closely contended by Turkey and New Zealand who both offer the Security Council strategic benefits.
However, Rajoy's debut at the assembly is likely to be a positive move in the face of repeated negativity towards him in the English speaking press and media concerning over his policies.
Should Spain win a seat on the council, they will occupy it for a period of 2 years from 2015 to 2016.