Bad Bank to buy Spanish debt at up to 80% discount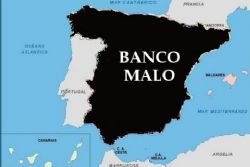 Spain's newly created 'Sociedad de Gestión de Activos Procedentes de la Reestructuración Bancaria' - or 'SAREB' the so-called "Bad Bank" - will assume responsibility for toxic loans and foreclosed property assets at significantly reduced prices in a bid to get the Spanish banking industry back on track.
The entity will buy troubled debts at an average discount of more than 55%, while foreclosed land will be taken over with discounts of as much as 80%, according to the Bank of Spain.
Bankia alone is expected to transfer up to €45 Billion of their former assets to SAREB.
Following the collapse of the property market in 2007 Spain's 'Cajas' have found themselves stuck with billions of euros of toxic debt. The creation of a bad bank was one of the conditions imposed on Spain by fellow EU member states before agreeing to extend a €100 billion aid package to prop up the country's troubled banking sector.