Corvera Airport : No News is No News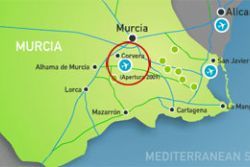 The lack of any meaningful statement from any of the airlines flying between the UK and Spain regarding the situation that exists between Corvera and San Javier airports, can only be described as frustrating at best.
And when this lack of information is taken into consideration alongside the countless 'Guarantees' that Corvera Airport will be fully operational in time for Summer 2013 it can only make matters worse.
Three weeks ago Murcia's Regional Minister for Public Works, Antonio Sevilla, publically announced that the transition phase of switching operations from San Javier to Corvera airport 'could' begin within the next two months and 'could' take up to six months to complete.
Which - if this estimate is both accurate and to be believed - puts the estimated date of opening anywhere between January and July of 2013.
So why the Silence from airlines ?
It is understandable that the airlines are not willing to make any firm commitment until they have cast-iron guarantees that the airport will be fully operational on the agreed date - especially when some of them are already flying into San Javier Airport. Spain's track record with other Privately owned airports such as Castellon Airport can only add to their reluctance to do so.
However Tumbit is still sent press releases on an almost daily basis by a number of airlines who proudly boast their fantastic value flight to sunny Murcia... just neglecting to mention exactly which airport in Murcia they intend to fly to.
Such airlines fail to realise that expats and holidaymakers alike need to know which airport they will be using. Additional costs and services such as airport parking, car hire and airport transfer - even Hotels - are dependent on knowing these details.
A number of Car Hire companies operating out of San Javier have no intention to have a base at Corvera - and as such are unable to offer a car for collection from the new airport (or a full refund) if a client suddenly finds that an flight booked to arrive at one airport is switched to the next.
With this in mind Tumbit sent a polite request for further information to the press offices of Easyjet, Jet2, Monarch and Ryanair asking a number of questions such as any intention to fly to Corvera (and if so, from which dates).
To date, only Ryanair has replied to the request noting that "they have nothing further to add to statements already given to the press". Yet still, certain airlines mail us to tell us of their bargain flight offers to Murcia.
Thank you for the staggering and total disregard of customer service. Although the opening date of the airport is out of your hands, there is no excuse for such a lack of communication.