Sabadell to invest in Spain's bad bank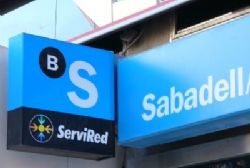 Spain's 5th largest Bank, Sabadell said it intended to become a shareholder in Spain's bad bank, created to siphon off bad property assets from lenders as a condition of receiving European aid.
"We will definitely hold an equity stake in the bad bank," Chairman Josep Oliu said on Friday.
Sabadell is the latest healthy Spanish listed bank to show it is willing to support the entity created to clean up the aftermath of a 2008 property crash after Santander said earlier this month it intended to invest in the bad bank.
Spain's 2nd largest bank BBVA is still considering whether to make an investment, a company spokesman said on Friday.
Government sources have said the bad bank, which technically launches on Friday, could go ahead with backing from domestic investors alone, but foreign investors would give it credibility.
The bad bank is now ready to begin receiving the €45 billion in soured real estate assets from the 4 nationalised lenders, though these are unlikely to be transferred until the end of December. The equity part of the bad bank will initially be around €3.5 billion to €3.9 billion.
Private investors also have until the end of December to invest in the equity.
In a 2nd stage, after including the assets of a further group of lenders in need of public aid, the total assets could increase to €60 billion.
The equity portion will swell to €5 billion and the government hopes international investors will buy up to 10% or €500 million of this.
International investors will have until the end of March to invest in the bad bank, bankers say.