Spain Inflation falls as recession worsens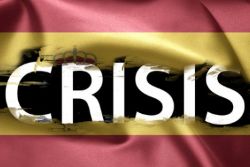 Spain's core inflation rate dropped last month from a four-4 year high as the euro region's 4th- largest economy was on track to shrink for a 6th consecutive quarter, easing pressure on prices.
Annual core inflation - which excludes energy and fresh food prices - fell to 2.3% from 2.5% a month earlier, the National Statistics Institute (INE) reported earlier today. That compares with a 2.2% median forecast of 4 estimates in a Bloomberg survey. Underlying prices rose 0.2% from October.
Spain is facing a deepening recession as PM Mariano Rajoy struggles to tackle a budget deficit that matches that of Greece as the euro-area's 2nd biggest after Ireland. The European Central Bank last week cut its 2013 inflation forecast for the region and left the door open for a benchmark interest rate cut as it sees the economy shrinking next year.
Spain's headline inflation rate, based on EU calculations, was 3%, matching an estimate published on November 30th. Excluding the impact of tax increases, the annual inflation rate was 0.9%, based on calculations by the Spanish Government.