Spain's vehicle manufacturing expected to improve 11% in 2013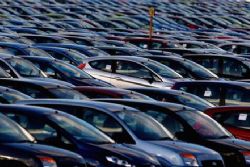 During 2012 to end November, Spain's level of automotive production reqached 1,860,700 units, falling by 17.75% on the same period in 2011, according to a report by the Spanish Automobile and Truck Manufacturers' Association (ANFAC).
For the month of November alone the country's vehicle production was down by 185,156 units, representing a fall of 16.1%. Cars accounted for 154,499 units, and a 12.2% reduction year on November 2011.
In the first 11 months, the Spanish passenger car segment recorded a decline of 17.6% year on year to total 1,447,515 units. Commercial and Industrial vehicles fell by 21.7% over the same period to reach 360'872 units.
Spanish exports of all motor vehicles fell 19.8% year on year to stand at 1,623,260 units.
ANFAC said that it expected to see the sale of 2.2 million vehicles in 2013 - up 11%, or 200'000 on 2012.