Ryanair flight makes emergency landing in Italy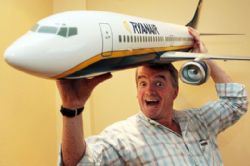 A Ryanair flight was forced to make an emergency landing in the Italian city of Genoa on Wednesday, after instruments on the Boeing 737-800 signalled possible cabin pressure problems, the airline said.
Two women were taken to hospital with minor injuries, police sources told Reuters. Ryanair's Italian representatives declined to comment beyond the statement which did not mention any injuries.
Ryanair said the flight, en route from Valencia, Spain to Bergamo in northern Italy, had landed "normally" in Genoa at 9:50 a.m. (0850 GMT) and passengers had been taken the rest of the way by bus.