Spain's Assocation of Recruiters call for further employment reforms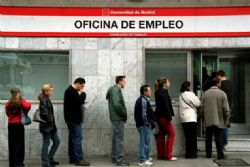 The Association representing Spanish recruitment agencies (AGETT) has called for a new labour reform, saying how many Spaniards have given up on searching for employment in their own country, and have instead turned their attentions to seeking opportunities abroad.
AGETT issued a statement calling for reforms being required toimprove employment policies and to make the country more attractive to foreign companies by allowing greater labour flexibility.
The organisation said that "real and effective cooperation" between public and private employment services are needed."
This comes after Spain's unemployment rate hit a new record, official figures showed on Thursday. The jobless rate jumped to 26% in the three months to December 2012 making 5.97 million people out of work. In the period, youth unemployment topped 55%.
A report issued by the INE last month noted how a total of 54,912 Spanish Residents moved abroad during the first 9 months of 2012, up 21.6% on the same period last year.
The report went on to say how the total number of people who have left Spain since January 2011 now stands at 927,890 people, of which 117,523 were Spanish Citizens and 810,367 were foreign.
Taking into account the difference between those arriving in the country and those leaving, the net balance for this period showed a loss of some 137,628 people. Of this number 25'329 were Spaniards and 112'089 were foreigners.