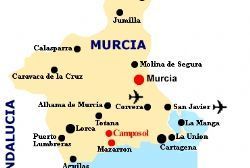 What exactly is it that the Spanish Airport Authority - AENA - is not telling us about the whole San Javier Airport / Corvera Airport situation ?
Further to Tweeting last November that they had no intention to close San Javier Airport in favour of Corvera. This was taken one step further in December when the older airport was included in basket of airports where the operation of the Duty Free stores was put out to tender .
Strange behaviour for the owners of an airport that was 'about to close' ?
However on Friday 1st of February the Regional President of Murcia, Ramon Luis Valcarcel, confirmed that San Javier airport will close once the newer airport had opened.
Things escalated last week, with AENA also including the older airport as 1 of 32 facilities where the Car Parking operation has also been put to tender, covering a 5 year period.
It seems that one of 5 things is happening here :
1.) AENA are deliberately sending a message to the owners of Corvera Airport that no compensation package for the closure of San Javier has yet been reached. But surely, if this is the case, it means that Millions will be wasted on tendering for, and awarding contracts that are unlikely ever to come to fruition ? Surely an enhanced compensation package between 2 publically owned entities can only be of detriment to the taxpayer ?
2.) That AENA really do have no intention to close San Javier airport to commercial flights - regardless of whether Corvera ever opens or not.
3.) AENA are party to information that gives them confidence that Corvera Airport will never open. Ever.
4.) President Valcarcel is trying to find the right moment to admit that they 'have messed up'.
5.) Nobody has a clue what is going on, everybody is pulling in different directions and, as expected, there is zero communication going on here.