Offer to buy Spain's first Privately-Owned Airport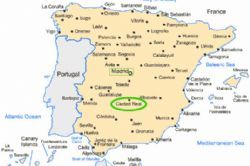 An offer of €40 Million has been made to buy Ciudad Real's Don Quixote Airport.
The offer was submitted on February 22nd by Zaragoza-based Kriber Airlines, who have held a number of meetings to discuss the possibility of buying 36% of the existing shares. The move is expected to ensure the creation of 1,500 jobs in the first year of operation, together with introduction of a number of long and short haul cargo flights.
'Directivos del Fondo de Garantía de Depósitos', hold the majority of shares in the assts of the facility since the airport was declared insolvent, shortly after closing in November 2011.
Ciudad Real Airport was Spain's first privately-owned Airport to open in December 2008, yet closed barely 3 years later. The airport - widely publicised as being "Madrid South" despite being located some 200km away from the capital - failed to attract airlines and passengers in sufficient number to become profitable.
Offers to purchase the Airport have been made previously, however, this is the first one which offers to buy the Infrastructure and not the surrounding land, which the current owners are willing to consider.
However, Ciudad Real Airport has one notable redeeming feature over and above Spain's other privately-owned Airport projects – such as Castellon and Corvera : It did actually open.