Look out for the Benidorm Bastards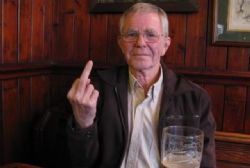 Those heading on Holiday to Benidorm this Spring and early summer this year will probably not be surprised to catch a glimpse of varius cast members, TV camera or outside broadcast film set, due to the start of filming of the popular TV show of the same name.
However, anyone choosing to head to Benidorm for a break - especially younger people on stag and hen parties, which the town is legendary for - would be well advised to keep on their guard against any TV crews lurking around the backstreets of the town.
A new hidden camera TV show - titled Benidorm Bastards - is due to launch on Spanish network 'Sexta' in a few weeks time. The series, called 'Mayores Gamberros' in Spanish, focuses on a group of Pensioners as they target various of unsuspecting younger people with an assortment of practical jokes, capturing their reactions on camera for the entertainment of the viewer.
The show was created by Shelter and has so far aired under various names in 20 different countries around the world.
As yet there has been no mention if - or when - the show might appear in the UK, which might cause embarassment to scores of young people, given their enchantment with the town.