Spain to see Electricity prices fall in Q2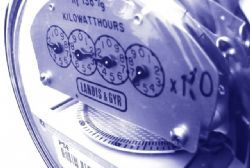 Finally : Some good news for Electricity consumers in Spain !
Yesterday afternoon an auction set the cost of Electricity for the 2nd quarter of 2013, with the results pointing to a price reduction in the wholesale energy markets.
The auction could instigate a reduction in electricity costs of as much as 10%, according to various sources. Given that the consumption of electricity currently makes up around 50% of the average household bill, this would equate to a saving of around 5%.
The remaining 50% of Electricity bills is made up of various costs, set by the Ministry of Industry , which will see their costs remain static for at least the next 3 months.
The decrease in wholesale electricity costs has been explained as being down to 2 reasons : 1.) A slide in demand of almost 4.8% in the first 2 months of 2013.
2.) A consolidation in the renewable energy system, which supplied 46.8% of all power consumed in January and February, has also caused a drop in price, as these sources enter the market at zero cost .
Yesterday's news is sure to be welcomed after no less than 3 separate price increases - not including the effects of an increase in the rate of IVA - throughout the whole of 2012. Some Good news, given that last month consumer group FACUA slammed Spain's major Electricity providers for their misleading Electricity discount offers .