BA lifts IAG's March traffic by 0.1 pct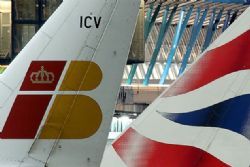 International Airlines Group (IAG) reported a 0.1% rise in March traffic, after a strong performance from British Airways made up for weakness at its Spanish carrier Iberia following a series of strikes.
Group traffic, measured in revenue passenger kilometres, rose 0.1% compared to March last year, while passenger load factor - a measure of how well it fill its planes - increased by 0.9 percentage points to 79.7%, IAG said on Thursday.
First and business-class traffic, the most lucrative part of its passenger business, fell 2% compared to the previous year following strikes in Spain over the Easter holiday, while non-premium traffic rose 0.5%.
BA's March traffic was 6.3% higher from the prior year compared to a 14.9% fall at Iberia, the company said.
Worsening economic conditions in Spain have hit IAG's performance in recent months.
Iberia's chief executive resigned on March 27 after months of strikes at the airline, which only ended after the intervention of a government-appointed mediator.
Shares in IAG, which have risen 31% over the past 3 months, were 0.6% lower at 252.7 pence at 1554 GMT.