Medical Professionals Submit Proposal to Save Spain's Health Service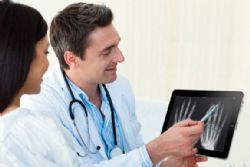 Medical associations representing half-a-million Spanish health professionals today presented 85 measures to prevent the public health system from "going down the drain."
"The problem is serious, very serious," said the president of the General Nursing Council Máximo González Jurado, who feels that this partnership between both professions represents "a turning point" for the future of the Spanish public health system.
This is the latest in a series of initiatives by health professionals against the spending cuts and the privatization drives in regions such as Madrid.
Juan José Rodríguez Sendín, president of doctors' group Organización Médica Colegial, said there is "a great deal of fear" among health professionals regarding the future of the current system. He added that contrary to claims by the authorities, the model is not in crisis, but rather "lacks funding and governance."
"Health managers cannot tell us now that they are unable to run the health system properly and that they can only do so through privatization," he said, suggesting that the powers that be are trying to introduce "other interests and for-profit" into the public system.
The priority right now, according to this physician-nurse partnership, includes reducing the politicization of public health and giving health professionals greater decision-making capacity. "When women get their breasts screened should not be a subject of political debate; it should be decided by the professionals, who are the ones running the risk," said Rodríguez Sendín.
The proposals include greater powers for health employees to decide how to use the resources at their disposal.
"Right now this is in the hands of the same people who want privatization," he added.