Murcia Professor of Tourism has "Doubts" over Paramount and Corvera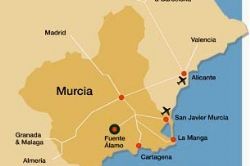 Bernardino Benito Lopez, Professor of Financial Economics and Accounting at the University of Murcia (UMU) and Director of the Murcia School of Tourism has spoken over his "Doubts" concerning the viability of the regional Corvera Airport and Paramount Theme Park Projects.
In an interview with Spanish newspaper La Verdad, Lopez maintained that - on paper at least - the theme park was a more attractive project that Tarragona's Port Aventura, but that the economics of the situation were causing problems.
Professor Lopez also questioned the Region's practice of "Changing the Tourism Slogan every 2 minutes".
Asked what was lacking in ensuring the success of the Paramount Theme park project, the Professor simply replied "Investors".
Recommended Reading
• Alicante Airport : 2 finger up to Corvera ?
• Spain : 6 Months of lies and bullshit
• AENA prepares for Corvera Airport Failure
• Paramount Murcia : 12 Months of no news