Paramount Murcia : 12 Months of no News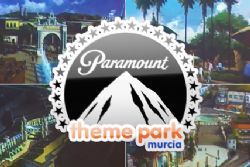 April the 10th marks 12 months to the day since any official press release concerning the Paramount Pictures theme park at Alhama de Murcia was made.
The most recent statement made on the official website of Proyectos Emblemáticos Murcianos SA (Premursa) - the promoter and developer of the theme park - catalogues the achievements of the park up to that point. It also lists at length the original aspirations of the project, which have been forced to change a number times since that date.
The latest press release also ends by confirming that the theme park and the first phase of the lifestyle project will be open by 2015, together with showcasing their concept for the project, which you can see via the Youtube clip attached >>>>
Perhaps the main reason as to why no recent statement has been made is because Premursa simply don't themselves what the state the project is at.
That and they are happy for the Regional Government of Murcia to take the flack for the catalogue of broken promises and missed deadlines.
Recommended Reading
• Paramount Murcia : Spare us the Bullshit
• A Question over Paramount's Footprint
• Paramount Murcia goes Pear-Shaped