Iberdrola profits beat estimates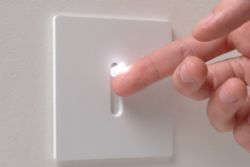 Iberdrola, Spain's largest utility, said first-quarter profit beat analyst estimates as growth in the U.S. and U.K. offset declining income at home.
Net income fell 14% from a year earlier to €879 million, beating the €877-million estimate of 10 analysts surveyed by Bloomberg, the company said in a statement. Earnings before interest, tax, depreciation and amortization fell 3.6% to €2.28 billion.
The Bilbao-based company is seeking to expand outside Spain, where government levies and a 4% decline in demand damped income, it said. Iberdrola Scottish Power said last week it would create 2,500 engineering jobs in the U.K. over the next decade as it boosts investment in transmission cables and substations. The U.S. unit, which includes a 5-year project to rebuild nearly 440 miles of transmission lines in Maine, reported 23% EBITDA growth.
"The main positive surprise is coming from the U.S.," Banco BPI SA (BPI) analysts said in a report. Overseas growth should be counterbalanced by losses from levies imposed by regulators in Spain, it said. Madrid-based BPI analyst Gonzalo Sanchez- Bordon maintains a buy rating with a price estimate of €5.
The shares rose 1.8% to €4.05 at 11:50 a.m. in Madrid trading.
The company plans to reduce debt by about €2 billion through 2014 and maintain its 30 euro-cent dividend policy, it said in an earnings presentation.
The price of energy will be the main driver of the company's investments, Chairman Ignacio Galan said on a conference call with analysts today. In October Galan said he planned to cut about 4%of the workforce and sell assets worth as much as €5 billion by 2014.