Santander CEO resigns after legal battle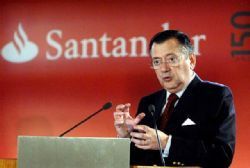 The CEO of Spain's Santander, the euro zone's largest bank, stepped down on Monday after a prolonged legal battle over whether he should be barred from banking due to a criminal conviction.
Alfredo Saenz, 70, was convicted in 2009 of filing a false complaint against shareholders in Santander-owned Banesto bankto pressure them to pay a debt, in a case that first arose more than a decade ago.
He was later pardoned by then PM Jose Luis Rodriguez Zapatero, but Spain's Supreme Court decided earlier this year to re-instate the conviction in a case that has dogged the executive for years.
In a fresh twist this month, the Bank of Spain opened new proceedings to decide Saenz's fate after the government passed a new law on banking ethics that could have kept him in post. Santander said in a statement that Saenz was stepping down voluntarily and thanked him for his work at the bank, during which time it had quadrupled in size.
According to the bank's audited accounts, Saenz, who had received public backing from the bank's Chairman Emilio Botin, 78, has accumulated pension rights of just over €88 million.
Santander said its board decided on Monday to name Javier Marin, a 46 year-old Botin confidante who has held several executive positions within the group, as the bank's new CEO.
The bank's shares, which have lost 9% so far this year, were up 1.75% at €5.5 after the news, outperforming the European bank sector index which was up 0.5%.
Santander has been looking increasingly for growth abroad since earnings at home have been dogged by a recession and property crash.