Spain energy overhaul to hit consumers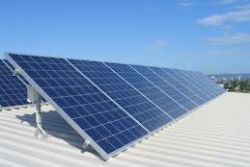 A major overhaul of Spain's energy sector set to be approved on Friday will hit companies and consumers hard but it may fail to plug a growing gap between power prices and generation costs, sources with knowledge of the matter said.
A €26 billion deficit created by years of mismatched regulated prices and costs has become a growing headache for recession-hit Spain.
Subsidies for wind and solar electricity generation, and for providing power to remote islands, as well as production over-capacity have widened the deficit.
It is expected to grow by €4- €5 billion per year unless action is taken.
PM Mariano Rajoy has been looking for months at how to plug the hole and share the burden between traditional electricity companies, renewable power producers, consumers and taxpayers.
The sources, who attended or were briefed on talks between the government and the electricity firms on Thursday, said the state's budget would cover no more than €900 million of the gap, or just half the cost of providing power to the Canary and Balearic Islands.
Electricity companies Iberdrola, Endesa, Gas Naturalor E.ON are expected to see a cut of about €1 billion through a reduction of about 20% to the fees they charge to the state for distributing energy.
Money would be saved by shutting down combined cycle plants, which would help reduce the €600 - €700 million cost of power over-capacity.
Power grid operator Red Electrica Corporacion is expected to receive up to €200 million less from the state each year.
Finally, consumers will likely have to pay more for their electricity and the government will make it harder for them to access subsidised fares.
One of the sources said the reforms, consisting of one text detailing the new regulation of the sector and another one about sharing the burden, would fall short of fixing the deficit.
To do that, consumer prices will have to be increased, which is a sensitive decision as cash-strapped Spaniards struggle to make ends meet.
The sources cautioned last minute that changes were likely as a meeting of senior officials who prepare the weekly cabinet meeting's decisions was cancelled on Thursday. Several ministers remain at odds over who should foot the bill.
Utilities have funded the shortfall until now and the government has been gradually paying them back through the issuance of state-backed bonds.
But the treasury ministry, keen to control any extra spending as it struggles to meet tough deficit targets agreed with the EU, wants to shift the burden to companies. Tensions escalated within the government this week when the treasury ministry dismissed assertions from the energy ministry that a deal had been struck on how the energy deficit would be financed.
Recommended Reading
• 5 Ways to Reduce Your Spanish Electricity Bill
• Spain's Misleading Electricity discount Offers
• Scam Concerns Over Spain's New Energy Certificate