Spain Raises Tensions With Gibraltar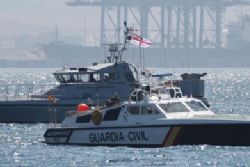 Tensions between Gibraltar and Spain were raised a notch today as Spanish border guards prevented a fleet of supply lorries entering the enclave.
The lorries were carrying aggregate concrete materials to supply the expansion of an artificial reef off the coast of Gibraltar.
Spain is furious about the construction of the reef which Gibraltar says is to protect marine life surrounding the rock. However, Madrid believes the expansion of the reef will prevent Spanish fisherman from fishing in the bay off Gibraltar.
This latest development comes less than a week after border guards caused massive delays and frustration by subjecting every vehicle to searches travelling across the frontier between Spain and Gibraltar, in which Foreign Secretary William Hague intervened by calling his Spanish counterpart.
Diplomatic channels between Spain and Gibraltar were cut off by the Spanish PM Mariano Rajoy when his party "Partido Poplar" came into office in 2011. Ever since, Rajoy has been stirring public opinion against Gibraltar and openly expresses his intension to reclaim Gibraltar as part of Spain.
As a result, all communications now go through the Foreign Office, which today expressed it's frustration at the latest development.
The Foreign Office issued a strongly worded statement demanding an explanation from Spain, saying the situation was "wholly unacceptable". Gibraltar is trying to establish who made the decision to block these lorries from crossing the border which has effectively created an illegal blockade.
Companies based in Gibraltar employ more than 6,000 Spanish nationals who cross the border to work and return home to Spain every day.
Senior Tory MP Andrew Rosindell, a member of the Commons Foreign Affairs Committee, has called for more pressure on Spain. "Spain is behaving in a treacherous fashion" he said, adding "They are breaking every rule in the book and every agreement they have ever made."
"The Foreign Office needs to act and ensure that we do not pussy-foot around.
"We are dangerously close to looking like we are being too diplomatic and too measured.
"I think the Spanish need to be taught a lesson. They are not in a reasonable mood and we are not prepared to tolerate this any longer."
Amidst the rising tensions, there are renewed calls for Royal Navy reinforcements to prevent incursions by Spanish Navy vessels into Gibraltar territorial waters. A decision has yet to be reached, however the option is not off the table.
Gibraltar officials are warning of further problems this weekend as further blockades and delays are predicted.
Recommended Reading