Family of Cuban dissident files Spanish lawsuit over death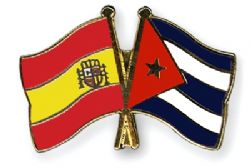 The family of a prominent Cuban dissident killed in a car crash on the island last year said on Monday they had filed a lawsuit in Spain against 2 Cuban army officials they allege were linked to his death.
Some of Oswaldo Paya's relatives have alleged that Cuban government agents ran the car off the road, though Spaniard Angel Carromero, who was driving the car, was convicted by a Cuban court last year of reckless driving in the accident.
Paya, one of the most important leaders of Cuba's small opposition community, had Spanish nationality, meaning Spanish authorities can investigate his death even though it was abroad.
Officials from both countries have said little publicly about the case, which has strained relations. Spain, a major trading partner for Cuba and the biggest European investor in the Caribbean island, worked hard behind the scenes to get Carromero transferred home to serve his sentence.
Paya's wife, Ofelia Acevedo Maura, and daughter, Rosa Maria Paya Acevedo, said they had filed the lawsuit at Spain's High Court, and a copy of the document was seen by Reuters. It was not clear what roles they allege the army officials played in the 60-year-old dissident's death.
Cuban government officials were not immediately available to comment but have said Paya died in an accident which was caused by reckless driving.
Spain's High Court could not confirm if it had received the lawsuit.
Once the court authorities receive a lawsuit, they must discuss with the public prosecutor's office whether to open initial proceedings. The decision in this case would not be expected before September.
If the court decides to proceed, it would automatically trigger an investigation into Paya's death by a Spanish judge.