More than 3000 Spaniards Book One-Way Trip to Mars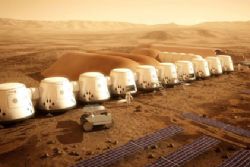 An ambitious project to colonise Mars within the next 10 years has so far received 3,621 registrations from Spaniards seeking to be amongst the first humans to live on the red planet.
Code named 'Mars One', a Dutch not for profit foundation, aims to establish a permanent human settlement on the planet in 2023.
The search began for astronauts in April, 2013 and since then more than 165,000 people have registered their desire to leave the confines of planet Earth and head to the untouched climate of Mars.
Aashima Dogra, spokeswomen for the Mars One project said "The Mars One Application Program is turning out to be the most desired job vacancy in the world. People from over 140 countries are looking towards the final frontier and envisioning their life on another planet".
The foundation says the technology exists today to make this project a reality which will integrate well tested components readily available from industry leaders worldwide.
Of the top ten nationalities who have registered, Spain ranks number 9 with the USA topping the list with 37,852 registrations. China ranks 2nd with 13,124 registrations whilst Brazil grabs 3rd with 8,686.
Interestingly, more than 8,000 Indians have signed up for the one-way trip to Mars positioning them in 4th on the list ahead of Russia in 5th with 7,138.
To date 6,999 Brits have registered their interest to become astronauts ranking them 6th on the list.
However, intergalactic British Ex-pats maybe disappointed upon arrival to Mars as it is unknown whether the Sky TV digital footprint signal will be extended to Mars or if they will have internet access.
Registrations to become an astronaut on the Mars One project are still being accepted, however you'll need to be quick as the last day for registration is Saturday, 31st August 2013.
Anyone over 18 years can register for the program at apply.mars-one.com