Spanish Doctor offers to "cure" case of Homosexuality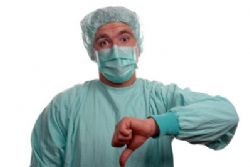 A Spanish Doctor is being sued after telling a young gay man she could "cure" his homosexuality, and that he was "too masculine" to consider being gay.
25-year-old David Cámara visited a Clinic in Jaén after suffering from anxiety, a loss of appetite and vomiting. The Doctor suggested that anxiety was not responsible for these symptoms, and instead advised Mr Cámara to undergo a range of tests relating to his sexuality, explaining: "gay couples are prone to all sorts of illnesses".
Mr Cámara told El Diario: "The Doctor told me I had to understand I was unnatural", and allegedly went on to say: "Haven't you realized that you are too masculine to get it into your head that you are gay?"
Upon being told that she was being unprofessional, the Doctor recommended that he saw another Doctor.
Upon hearing the news that he planned to take legal action against the practice, the local health authorities were quick to deny that the doctor ever planned to treat Homosexuality as nan "illness".
Instead, they insist that she had followed the correct procedures for his "ailments", and had been "respectful" in all of her dealings.