Aeromur seek compensation over Corvera Cancellation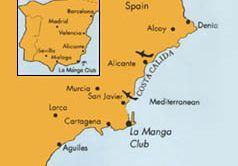 Sacyr - the 60.65% majority shareholder behind the concession holder of Corvera Airport - has called a meeting of all creditors over the 200 Million Euro debt owed to the regional government of Murcia.
Spain's National Securities Market Commission (CNMV) have reported how the net value of the investment in the company is just 25 million Euros.
It was just last week - Friday the 13th of September - that Aeromur had their contract to operate the airport revoked due to the constant delays and inability to open the airport.
The former concession holder has invested 250 million Euros in the airport, and is seeking compensation from the regional government.
Aeromur, which also includes BMN, Sabadell CAM, Cementos Lacroix and Montoro y Hijos, considers that any new operator of the airport should compensate the consortium 197.2 million Euros, together with some 49 million Euros.
Earlier this year the spokesman for the regional government confirmed that there were a number of other parties interested in operating the airport should there be problems further down the line with Aeromur.
Recommended Reading
• Murcia terminates Aeromur's Corvera contract
• Friday the 13th : The return of Corvera Airport